The Ubiquiti UniFi AP AC HD (5 Pack) features the latest in Wi-Fi 802.11AC Wave 2 MU-MIMO technology and a refined industrial design. The UAP-AC-HD is perfect for use both indoors and outdoors and has simultaneous dual band.
Ubiquiti UAP-AC-HD-5 Key Features
Simultaneous Dual-Band
Four-Stream 802.11AC Wave 2 Technology
4×4 Multi-User MIMOt
802.3at PoE+ Compatibility
500+ Client Connections
800 Mbps at 2.4GHz
Extend your coverage
With the UniFi Controller software running in a NOC or in the cloud, administrators can manage multiple sites: multiple, distributed deployments and multi-tenancy for managed service providers.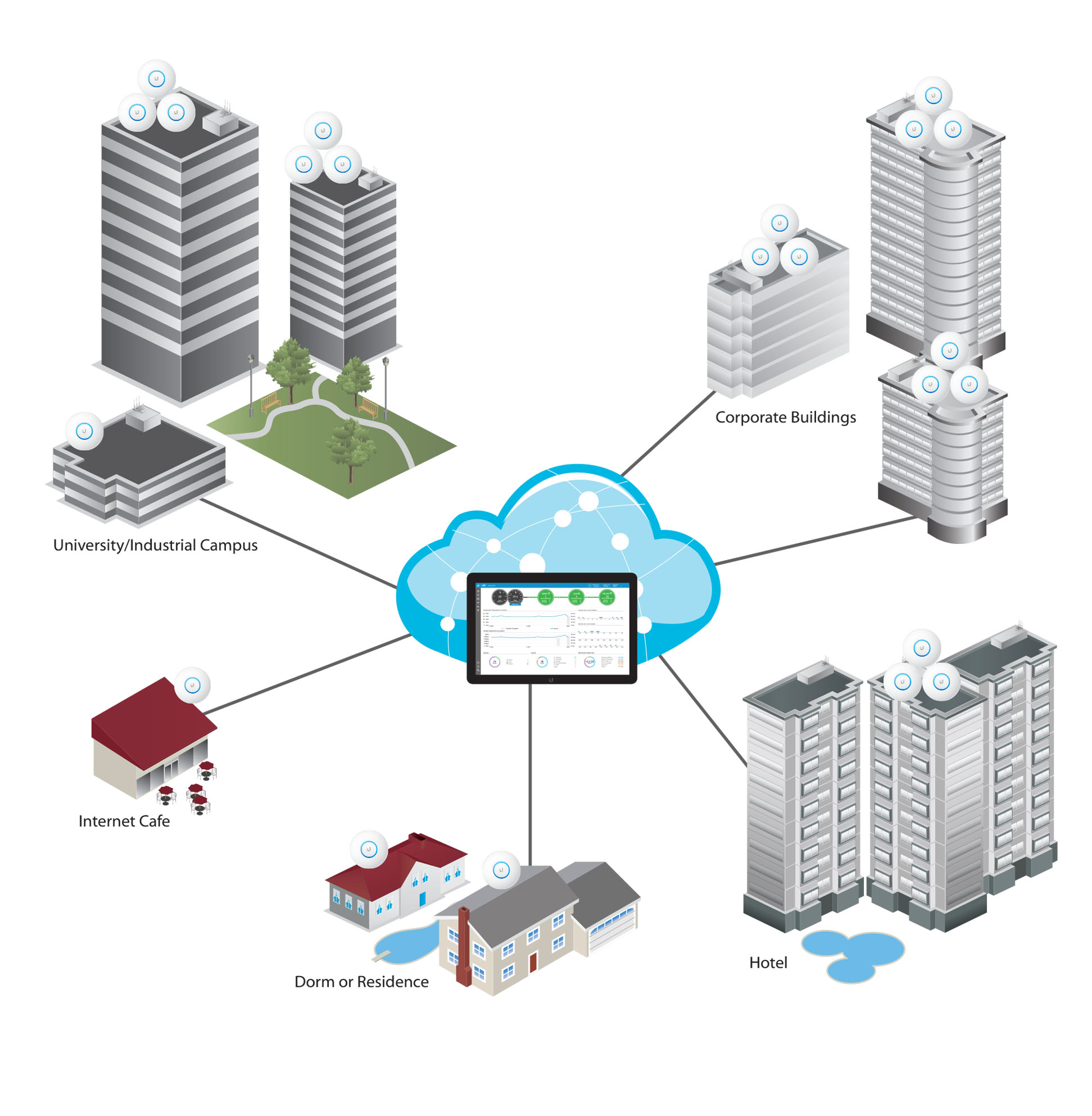 Real-World Performance
The UniFi AC HD AP is the first UniFi 802.11ac Wave 2 AP. Combining the performance increases from MU-MIMO technology and the use of 4×4 spatial streams, the UniFi AC HD AP delivers up to 125% greater performance* than a typical Wave 1 AP Below are some deployment examples. For optimal performance, useMU-MIMO clients. SU-MIMO clients will also benefit and gain up to 10-20% greater performance when used with the UniFi AC HD AP.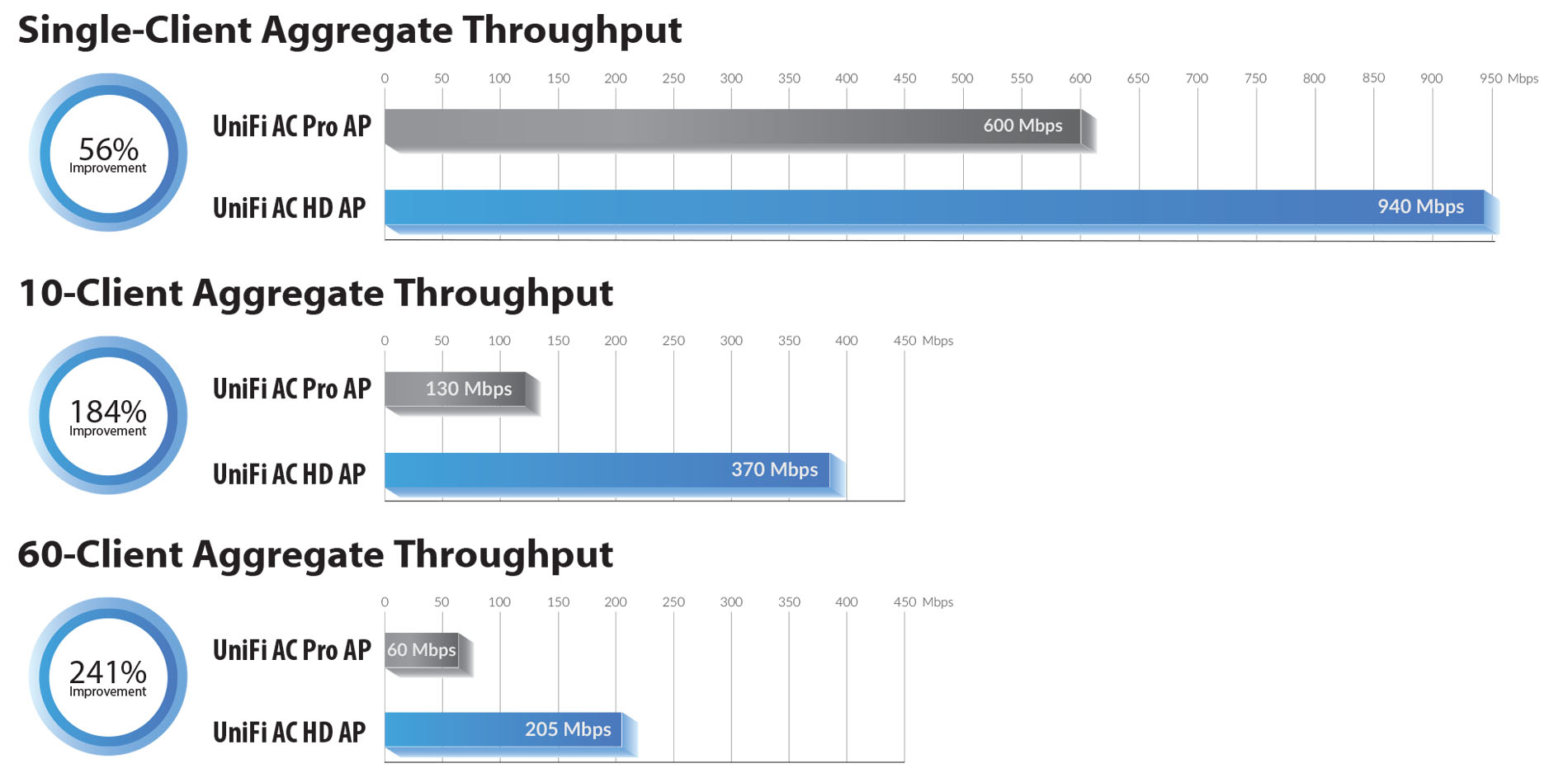 System Example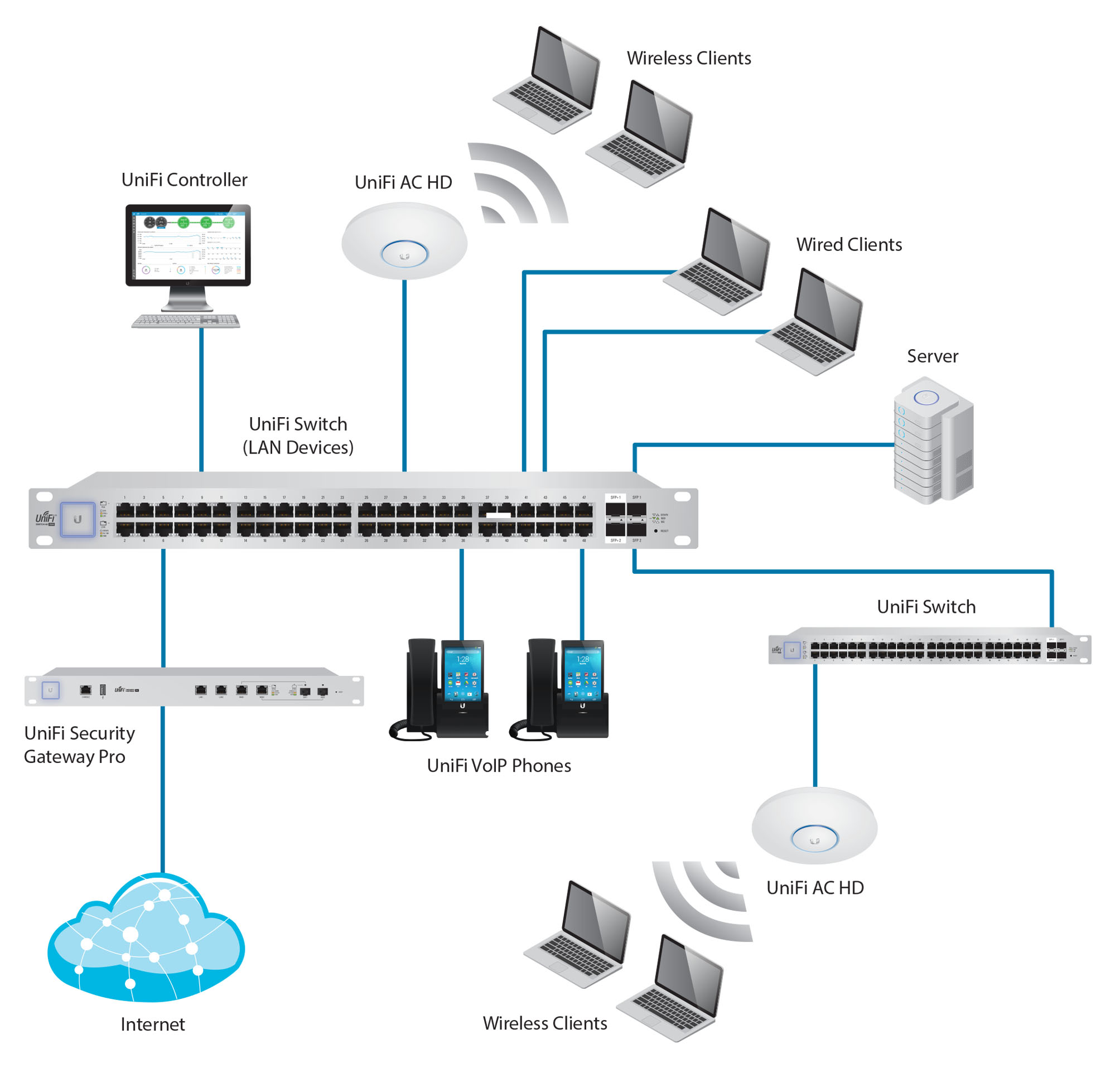 Ubiquiti UniFi AP AC HD – Technical Specification
General
Dimensions: 220 x 220 x 48.1 mm (8.66 x 8.66 x 1.89″)
Weight: 700g (1.54 lb)

With mounting kits: 830g (1.83 lb)

Networking Interface: (2) 10/100/1000 Ethernet Ports
Buttons: Reset
Power Method: Passive Power over Ethernet (48V), 802.3at PoE+ Supported
Supported Voltage Range: 44 to 57VDC
Power Supply: 48V, 0.5A PoE Gigabit Adapter
Power save: Supported
Maximum Power Consumption
TX Power

2.4 GHz: 6-25 dBm
5GHz: 6-25dBm

Antennas

2.4 GHz: (2) Dual-Port, Dual-Polarity Antennas, 3 dBi each
5GHz: (2) Dual-Port, Dual-Polarity Antennas, 4 dBi each

WiFi Standards: 802.11 a/b/g/n/ac/ac-wave2
BSSID: Up to Four per Radio
Wireless SecurityL: WEP, WPA-PSK, WPA-Enterprise (WPA/WPA2, TKIP/AES)
Mounting: Wall/Ceiling (Kits Included)
Operating Temperature: -10 to 70° C (14 to 158° F)
Operating Humidity: 5 to 95% Noncondensing
Cerfiications: CE, FCC, IC
Advanced Traffic Management
VLAN: 802.1Q
Advanced QoS: Per-User Rate Limitingl
Guest Traffic Isolation: Supported
WMM: Voice, Video, Best Effort, and Background
Concurrent Clients: 500+
Supported Data Rates (Mbps)
Standard Data Rates
802.11a: 6, 9, 12, 18, 24, 36, 48, 54 Mbps
802.11n: 6.5 Mbps to 450 Mbps (MCS0 – MCS23, HT 20/40)
802.11ac: 6.5 Mbps to 1.7 Gbps (MCS0 – MCS9 NSS1/2/3/4, VHT 20/40/80)
802.11b: 1, 2, 5.5, 11 Mbps
802.11g: 6, 9, 12, 18, 24, 36, 48, 54 Mbps