The Ubiquiti UniFi UAP-AC-SHD-5 access point enables you to effectively and efficiently create wireless network designs of any size, from small to large, with the potential for unlimited scalability.
Ubiquiti UAP-AC-SHD-5 Features
Simultaneous Dual-Band 4×4 Multi-User MIMO
500+ Client Connections
2.4 GHz Radio Rate 800 Mbps
5GHz Radio Rate 1733 Mbps
PoE Mode 802.3at PoE+
Dedicated Security Radio with Persistent Threat Management
Real-Time Spectrum and airTime Utilisation Engine
The built-in, dedicated security and monitoring dual-band radios of the UniFi AC SHD (Secure High Density) AP (5 Pack) provides visibility into site performance, channel planning, and local interferers, allowing the integrator to properly evaluate performance.
With the UAP-AC-SHD-5, the user also has the additional benefit of being capable of quickly responding to changing interference and security threat landscapes. airTime provides real time visibility into channel utilization at packet level. airView provides real-time visibility into RF environment across all available channels.
Powerful Hardware
The UniFi UAP-AC-SHD-5 features the latest in Wi-Fi 802.11ac Wave 2 4X4 MU-MIMO technology combined with dedicated security and Bluetooth radios. Frequencies: 2.4 and 5GHz
Intuitive UniFi Controller Software
The system integrator can leverage the controller to easily configure and administer an enterprise Wi-Fi network.
Expandable
The system integrator can start with one (or upgrade to a multi-pack) and expand to thousands while maintaining a single unified management system.
Save Money and Save Time
UniFi comes bundled with a software controller that can be deployed on an on-site PC, Mac, or Linux machine; in a private cloud; or using a public cloud service.
Easily accessible through any standard web browser and the UniFi mobile app (iOS or Android), the UniFi Controller software is a powerful software engine ideal for high-density client deployments requiring low latency and high uptime performance. The also uses the same mounting hardware as the UAP-AC-PRO, so you can easily remove the UAP-AC-PRO and replace it with the UAP-AC-SHD-5.
Extend Your Coverage
With the UniFi Controller software running in a NOC or in the cloud, system integrators can manage multiple sites: multiple, distributed deployments and multi-tenancy for managed service providers. Below are some deployment examples.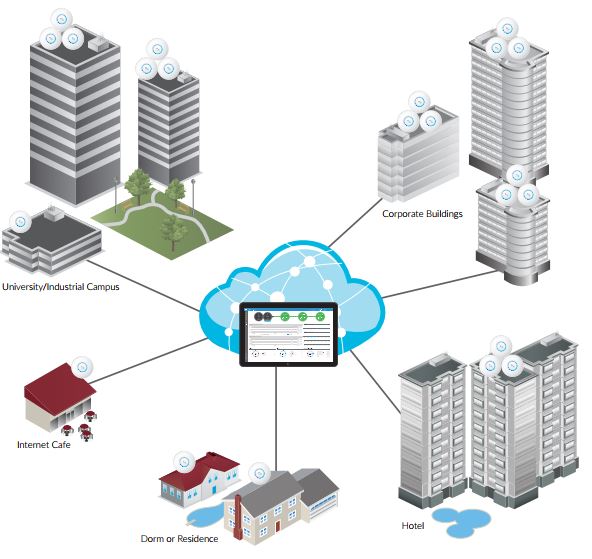 Perfect for High-Density Scenarios
For high-density environments, such as a concert venue or outdoor fair where there are numerous clients in a relatively small space, we recommend the UniFi AC SHD AP. When you use the 2.4 GHz band in a high-density location, you encounter self-interference and channel saturation. When you use the 5 GHz band, you can deploy smaller cells (coverage areas), so you can support more clients in any cell that deploys more than one AP.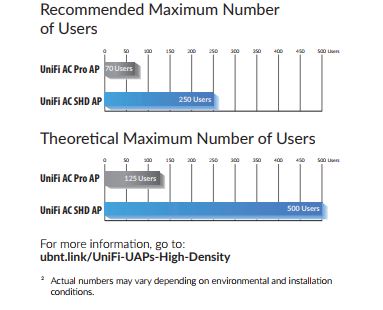 Real-World Performance
The UniFi AC SHD AP is the first UniFi 802.11ac Wave 2 AP with a dedicated security radio. Combining the performance increases from MU-MIMO technology and the use of 4×4 spatial streams, meaning that the UniFi AC SHD AP delivers up to 125% greater performance1 than a typical Wave 1 AP. For optimal performance, use MU-MIMO clients. However, SU-MIMO clients will also benefit and gain up to 10-20% greater performance when used with the UniFi AC SHD AP.
Dedicated Spectral Security Radio and Threat Management
Using a persistent spectral scan, the UniFi AC SHD AP constantly monitors the RF environment to check for both potential malicious activity and the best channel for network performance. The UniFi AC SHD AP's also possesses dedicated security radio, providing persistent threat management to act as a Wireless Intrusion Prevention System (WIPS) and Wireless Intrusion Detection System (WIDS). This means that all available Wi-Fi channels are monitored constantly for threats.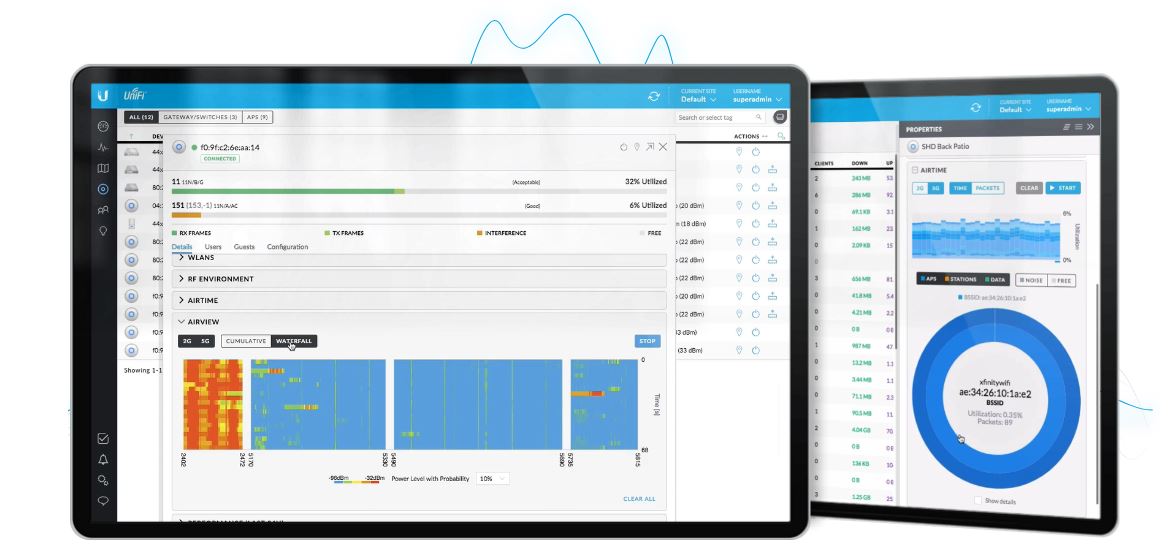 System Example
Ubiquiti UniFi UAP-AC-SHD – Technical Specifications
General
Dimensions: 220 x 220 x 48.1 mm (8.66 x 8.66 x 1.89″)
Weight: 700 g (1.54 lb)

With Mounting Kits: 830 g (1.83 lb)

Networking Interface: (2) 10/100/1000 Ethernet Ports
Buttons: Reset
Power Method: 802.3at PoE+
Supported Voltage Range: 44 to 57VDC
Power Supply: UniFi Switch (PoE)
Power Save: Supported
Maximum Power Consumption: 20W
Radios: 2.4 GHz, 5 GHz, Security
TX Power:

2.4 GHz: 6-25 dBm
5 GHz: 6-25 dBm

Antennas:

2.4 GHz: (2) Dual-Port, Dual-Polarity Antennas, 8 dBi each
5 GHz: (2) Dual-Port, Dual-Polarity Antennas, 8 dBi each

Wi-Fi Standards: 802.11 a/b/g/n/ac/ac-wave2
Wireless Security: WEP, WPA-PSK, WPA-Enterprise (WPA/WPA2, TKIP/AES) – 802.11w (PMF)
BSSID: Up to 8 per Radio
Mounting: Wall/Ceiling (Kits Included)
Operating Temperature: -10 to 70° C (14 to 158° F)
Operating Humidity: 5 to 95% Noncondensing
Certifications: CE, FCC, IC
Advanced Traffic Management
VLAN: 802.1Q
Advanced QoS: Per-User Rate Limiting
Guest Traffic Isolation: Supported
WMM: Voice, Video, Best Effort, and Background
Concurrent Clients: 1000+
Supported Data Rates (Mbps)
Standard: Data Rates
802.11a: 6, 9, 12, 18, 24, 36, 48, 54 Mbps
802.11n: 6.5 Mbps to 450 Mbps (MCS0 – MCS23, HT 20/40)
802.11ac: 6.5 Mbps to 1.7 Gbps (MCS0 – MCS9 NSS1/2/3/4, VHT 20/40/80)
802.11b: 1, 2, 5.5, 11 Mbps
802.11g: 6, 9, 12, 18, 24, 36, 48, 54 Mbps