The Ubiquiti EdgeRouter Infinity 10G SFP/SFP+ 8 Port Router ER-8-XG features eight SFP+ ports for fiber connectivity and an RJ45 port for copper connectivity. A serial console port is available for CLI management (also accessible through the browser-based interface).
Ubiquiti EdgeRouter Infinity Features
Throughput 80 Gbps
Performance 18 million pps
Number of Cores 16
Core Frequency 1.8 GHz
RAM 16 GB DDR4
The EdgeRouter Infinity combines 80 Gbps aggregate throughput and price/performance value in a compact rackmountable form factor. It features 16 cores, 16 GB RAM and hardware acceleration for packet processing.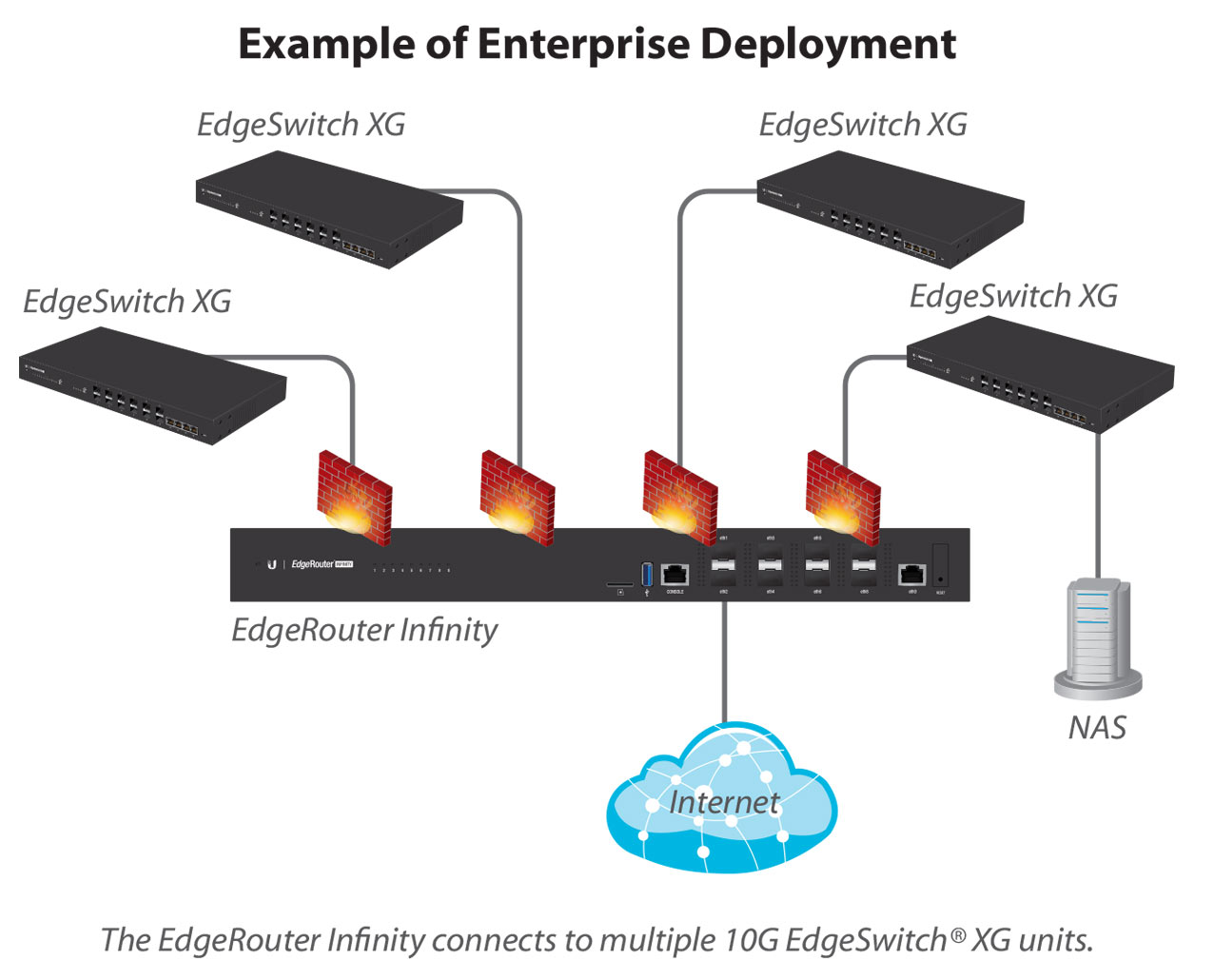 10G Routing Technology for the Masses
The EdgeRouter Infinity features eight 10G SFP+ ports for fiber connectivity and a Gigabit Ethernet RJ45 port for copper connectivity.


Rackmount Design
The 1U-high metal chassis allows for convenient mounting in a standard-sized, 19″wide rack.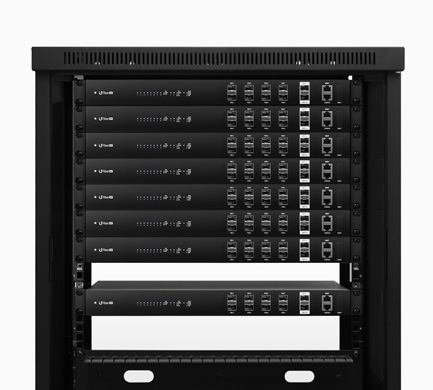 Power Versatility
The EdgeRouter Infinity includes two AC/DC power modules – one for backup. An optional DC/DC power module is available for use with DC power.
The AC/DC module is also sold separately as model RPS-AC-100W . You also have the option to use a DC/DC Power Module, model RPS-DC-100W (sold separately)

Centralised Management
The EdgeRouter Infinity is supported and managed by UNMS™ (Ubiquiti® Network Management System), a comprehensive controller with an intuitive UI. A single control plane manages registered EdgeMAX® devices across multiple sites.

Ubiquiti EdgeRouter Infinity 10G SFP/SFP+ 8 Port Router ER-8-XG – Technical Specifications
General
Dimensions: 442.4 x 285.6 x 43.7 mm (17.42 x 11.24 x 1.72″)
Weight:
– Without Mount: 4.950 kg (10.91 lb)
– With Mount: 5.045 kg (11.12 lb)
Enclosure Characteristics: SGCC Steel
Max. Power Consumption 100W
Power Method: Hot-Swappable AC/DC or DC/DC* Power Supply Module
Supported Voltage Range:
– AC/DC Power Supply Module: 100 to 240VAC, 24VDC Output
– DC/DC Power Supply Module: 38 to 54VDC, 24VDC Output
Button: Reset
LEDs:
– System: Status
– SFP+ Data Ports: Link/Activity
– RJ45 Data Port: Link/Activity
Ports:
– Serial Console Port: (1) RJ45 Serial Port
– Data Ports: (8) SFP+ Ports, (1) RJ45 Gigabit Ethernet Port
Layer 3 Forwarding Performance:
– Packet Size: 64 Bytes: 18,000,000 pps
– Packet Size: 1514 Bytes: 80 Gbps (Line Rate)
Processor: MIPS64 16 Core 1.8 GHz with Hardware Acceleration for Packet Processing
System Memory: 16 GB DDR4 RAM
On-Board Flash Storage:
– 8 MB NOR Flash
– 4 GB eMMC NAND Flash
Certifications: CE, FCC, IC
Rackmount: Yes, 1U
ESD/EMP Protection: Air: ± 24 kV, Contact: ± 24 kV
Operating Temperature: -5 to 40° C (23 to 104° F)
Operating Humidity: 5 – 95% Noncondensing