*Note: This doesn't contain any hard drives!*
The Synology (DS118) is a high-performance and compact 1-bay NAS, specifically designed for offices and home users to effectively manage, protect, and share data. Its new 64-bit quad-core processor supports 10-bit 4K H.265 video transcoding to enrich multimedia entertainment. Synology DS118 is backed by Synology's 2-year limited warranty.
Synology (DS118) Key Features
Optimal Price-Performance Ratio
Cross-Platform File Sharing and Data Synchronisation
Easy Backup Solutions
Anywhere/Anytime Availability
Energy Efficient with Cool and Quiet Design
Runs on Synology DiskStation Manager (DSM)
High-performance 1-bay NAS for small offices and home users
Sequential throughput at over 113 MB/s reading and 112 MB/s writing
164-bit quad-core 1.4GHz processor
10-bit 4K H.265 video transcoding on the fly
Optimal Price-Performance Ratio
Synology DS118 is a high-performance 1-bay network attached storage solution equipped with a 64-bit quad-core 1.4GHz processor and 1GB memory, delivering excellent sequential throughput at over 113 MB/s reading and 112 MB/s writing. With hardware accelerated encryption, the DS118 delivers encrypted data throughput at over 112 MB/s reading and 113 MB/s writing.
The DS118 is also optimised for 10-bit 4K H.265 video transcoding via Video Station. You can organise your personal digital video library with comprehensive media information, and stream 4K Ultra HD movies and films to various devices such as computers, smartphones, media players, and TVs. If your device is not capable of 4K video playback, the DS118 provides online 4K video transcoding to 1080p or lower resolutions for smoother and time-saving video watching experience.
Cross-Platform File Sharing and Data Synchronisation
Synology DS118 supports comprehensive network protocols, ensuring a seamless file sharing experience across Windows®, Mac®, and Linux® platforms. Windows AD and LDAP integration allow the DS118 to fit quickly and effortlessly into any existing network environment without the necessity of creating identical user accounts. Cloud Sync keeps your Dropbox, Google™ Drive, Microsoft OneDrive, Baidu and Box storages in sync with your personal DiskStation at home. The Cloud Station Suite allows you to sync files among multiple devices — Windows PC, Mac, Linux, iOS or Android™ tablets/ phones — effortlessly keeping everything up-to-date. DS118 combines seamless file sharing capability with enhanced security, even over the internet with HTTPS, built-in firewall, and multiple IP and account intrusion auto-blocking mechanisms.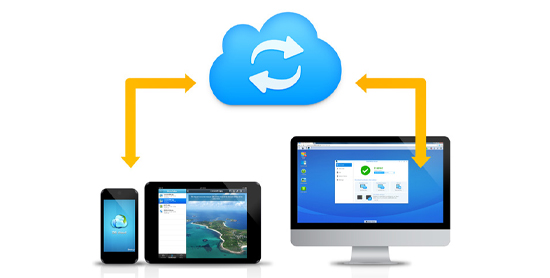 Easy Backup Solutions
With block-level incremental backup and cross-version deduplication, Synology Hyper Backup provides multi-version backup with optimised storage utilisation and allows data backup to multiple destinations, such as local shared folders, external hard drives, network shared folders, rsync servers, and public cloud services.
Anywhere/Anytime Availability
Synology provides various mobile applications allowing you to enjoy your multimedia library even when on the go. Available on iOS, Android™, and Windows Phone® platforms, DS photo, DS audio, DS video, and DS file enable access to your Synology NAS through Photo Station, Audio Station, Video Station, and File Station. What's more, you can use DS get to remotely manage and monitor download tasks on Download Station. QuickConnect allows you to connect via a simple customisable address so that you can instantly access media and work files on any Windows/Mac/Linux computer, laptop, or mobile device.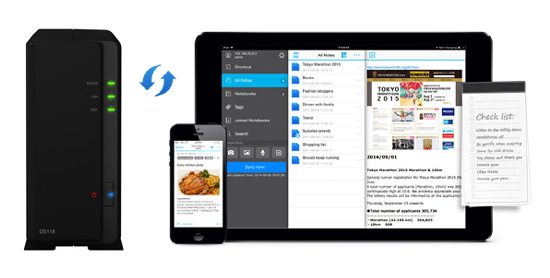 Energy Efficient with Cool and Quiet Design
Synology DS118 is designed with energy efficiency in mind. Compared with its average PC counterpart, Synology DS118 consumes relatively little power at 9.4 watts while accessing and 4.22 watts when hard drive hibernation is enabled. The scheduled power on/off feature further reduces power consumption and operation cost.
Running on Synology DiskStation Manager (DSM)
Synology DiskStation Manager (DSM) is a web-based operating system tailor-made for every Synology NAS. Featuring an intuitive multitasking user interface, DSM provides simple destop-like experience to minimise effort in exploring and managing your Synology NAS. The built-in Package Center allows you to download and install a variety of packages designed specifically for your unique needs, ranging from file backup, multimedia sharing, productivity tools, safeguard security and utilities. With all the built-in and add-on features, DSM provides you with complete and fine-grained control of your DS118, helping you maximise productivity and make the best out of of your digital assets. All will happen with just a few clicks.
Synology (DS118) Technical Specification
Hardware
CPU: Realtek RTD1296 quad-core 1.4GHz
Hardware encryption engine: Yes
Hardware transcoding engine:
– Supported codec: MPEG-4 Part 2 (XVID, DIVX5), MPEG-2, VC-1, 10-bit H.265 (HEVC)
– Maximum resolution: 4K (4096 x 2160)
– Maximum frames per second (FPS): 60
Memory: 1 GB DDR4
Compatible drive type: 1 x 3.5″ or 2.5″ SATA HDD/SSD (drive not included)
External port: 2 x USB 3.0 port
Size (HxWxD): 166 x 71 x 224 mm
Weight: 0.7 kg
LAN: Gigabit (RJ-45) x 1
Wake on LAN/WAN: Yes
Scheduled power on/off: Yes
System fan: 60 x 60 x 15 mm
AC input power voltage: 100V to 240V AC
Power frequency: 50/60Hz, single phase
Operating temperature: 5°C to 40°C (40°F to 104°F)
Storage temperature: -20°C to 60°C (-5°F to 140°F)
Relative humidity: 5% to 95% RH
Maximum operating altitude: 5,000 m (16,400 ft)
General DSM Specification
Networking protocol: SMB, AFP, NFS, FTP, WebDAV, CalDAV, iSCSI, Telnet, SSH, SNMP, VPN (PPTP, OpenVPN ™ , L2TP)
File system:
– Internal: ext4
– External: ext4, ext3, FAT, NTFS, HFS+, exFAT3
Supported RAID type: Basic
Storage management:
– Maximum internal volumes: 1
– Maximum iSCSI targets: 10
– Maximum iSCSI LUNs: 10
File sharing capability:
– Maximum local user accounts: 2,048
– Maximum local groups: 256
– Maximum shared folders: 256
– Maximum concurrent SMB/NFS/AFP/FTP connections: 200
Privilege: Windows Access Control List (ACL), application privilege
Directory service: Windows® AD integration: Domain users login via SMB/NFS/AFP/FTP/File Station, LDAP integration
Security: Firewall, encrypted shared folder, SMB encryption, FTP over SSL/TLS, SFTP, rsync over SSH, login auto block, Let's Encrypt support, HTTPS (Customisable cipher suite)
Supported client: Windows 7 and 10, Mac OS X® 10.11 onwards
Supported browser: Chrome®, Firefox®, Internet Explorer® 10 onwards, Safari® 10 onwards; Safari (iOS 10 onwards), Chrome (Android™ 6.0 onwards)
Interface Language: English, Deutsch, Français, Italiano, Español, Dansk, Norsk, Svensk, Nederlands, Русский, Polski, Magyar, Português do Brasil, Português Europeu, Türkçe, Český and more
Packages and Applications
File Station: Virtual drive, remote folder, Windows ACL editor, compressing/extracting archived files, bandwidth control for specific users or groups, creating sharing links, transfer logs
FTP Server: Bandwidth control for TCP connections, custom FTP passive port range, anonymous FTP, FTP SSL/TLS and SFTP protocol, boot over the network with TFTP and PXE support, transfer logs
Universal Search: Offer global search into applications and files
Hyper Backup: Support local backup, network backup, and backup data to public clouds
Backup tool: DSM configuration backup, macOS Time Machine support, Cloud Station Backup Shared folder sync – maximum tasks: 2
Cloud Station Suite: Sync data between multiple platforms by installing the client utilities on Windows, Mac, Linux, Android and iOS devices, while retaining up to 32 historical versions of files. Maximum concurrent file transfers: 200
Cloud Sync: One or two-way synchronisation with public cloud storage providers including Alibaba Cloud OSS, Amazon Drive, Amazon S3-compatible storage, Backblaze B2, Baidu Cloud, Box, Dropbox, Google Cloud Storage, Google Drive, hubiC, MegaDisk, Microsoft OneDrive, OpenStack Swift-compatible storage, Tencent COS, WebDAV servers, Yandex Disk
Surveillance Station: Maximum IP cameras: 15 (total of 450 FPS at 720p, H.264) (includes two free camera licenses; additional cameras require the purchasing of additional licenses)
VPN Server: Maximum connections: 5, supported VPN protocol: PPTP, OpenVPN™, L2TP/IPSec
Mail Server: Supported Mail Server protocol: POP3, SMTP, IMAP, support LDAP/AD account
Mail Station: Webmail interface for Mail Server to receive emails from multiple POP3 mailboxes, customisable SMTP server
Collaboration Suite:
– Chat maximum users: 500
– Office maximum users: 100, maximum simultaneous editing users: 30
– Calendar: support CalDAV and access via mobile devices
 Note Station: Rich-text note organisation and versioning, encryption, sharing, media embedding and attachments
Storage Analyser: Volume and quota usage, total size of files, volume usage and trends based on past usage, size of shared folders, largest/most/least frequently modified files
Antivirus Essential: Full system scan, scheduled scan, white list customisation, virus definition auto update
Download Station: Supported Download Protocols: BT, HTTP, FTP, NZB, eMule, Thunder, FlashGet, QQDL. Maximum concurrent download tasks: 30
Web Station: Virtual host (up to 30 websites), PHP/MariaDB®, 3rd-party applications support
Other packages: Video Station, Photo Station, Audio Station, DNS Server, RADIUS Server, iTunes® Server, Log Center, additional 3rd-party packages are available on Package Center
iOS/Android™ applications: DS audio, DS cam, DS cloud, DS file, DS finder, DS get, DS note, DS photo, DS video
Windows Phone® applications: DS audio, DS file, DS finder, DS get, DS photo, DS video
Environment and Packaging
Environment safety: RoHS compliant
Package content:
– DS118 main unit
– Quick Installation Guide
– Accessory pack
– AC power adapter
– RJ-45 LAN cable
Optional accessories:
– VisualStation VS360HD, VS960HD
– Surveillance Device License Pack
– 2.5″ Disk Holder Type C
Warranty: 2 years